My Afterlife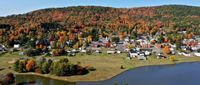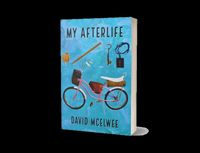 Newman Springs Publishing
My Afterlife
My Afterlife will appeal to mature readers fascinated in the beauty of subtle changes like dandelions appearing or the glee when drinking a milkshake while acutely aware of life's unpleasantries. Skeeter McGee shares this intrigue and trepidation with the reader as a small-town genius whose life is truncated minutes before he's to graduate as valedictorian...
During his brief life, curiosity leads Skeeter to identify events and decisions guiding him to those he loves, including a merry-go-round ride resulting in lifelong friendships, a curious connection with a maternalistic junkman, and a simple decision resulting in his own death. However, that morning, he rides his bicycle book bag to deliver gifts to his four best friends.
Years later, three of these gifts (the drumsticks, skeleton keys, and scapular) are instrumental in saving the life of its recipient during adulthood. The fourth, a pair of yellow earrings, sparks an odyssey in which a young woman from a distant city is thrust into an unexpected life
My Afterlife tethers tragic events and humorous situations to complex human experiences such as faith, death, and social complications encountered by each as time passes during their journey. Hopefully, the reader will reflect on their own life, shaped by important (and unimportant) events and decisions, leading them to ask, "What if…?"
Amazon
B&N
Apple
Book Reviews
Praise For My Afterlife
"'My Afterlife' was a great read. It kept my attention as I was able to enjoy all of the small town references. The story came together well for an exciting ending!"
"What a great ride! A very touching story of great friendships tied together through the life of one person showing that some souls are destined to forever be cosmically connected. A witty and fun read full of laughs and some real-life twists. A rollercoaster of emotions that's bound to hit on all feels! I love this book!"
"An enlightening journey back to my youth."
"Great read that will hopefully come to the big screen..."
"Mr. McElwee takes you through the mirror down a wonderful rabbit hole. Childhood meets reality told like Stephen King. Captivating reading about life's oddities."
"I loved the characters and saw my childhood in them. Growing up in a small town and returning to it years later, I could relate to them young and when they were older. The story was sweet, sad, and interesting. I really enjoyed it!"
Excellent first effort by the Author. Looking forward to more memories with a mystery tales.
Brought tears to my eyes more than once.
Read an Exerpt
Join Our Newsletter
Learn More
Fact Or Fabrication
You can write to David by going to the contact page.
Many years ago, in the land before time, David and his father found an actual glass orb under his residence.
Subscribe to
Our Newsletter!
Subscribe to our newsletter and be the first to know about new releases, upcoming events, and exclusive content from David Mcelwee and My Afterlife!